This is our own designed and built fully automatic high speed sleeve wrapper range, ideal for high volume commercial shrink wrap applications. We have worked hard on the re-design of this machine and are delighted with the results achieved. It looks great, its performance is better than ever, the pack presentation is fantastic, it's more compact and takes up a relatively small space and to top it all off, much improved energy efficiency.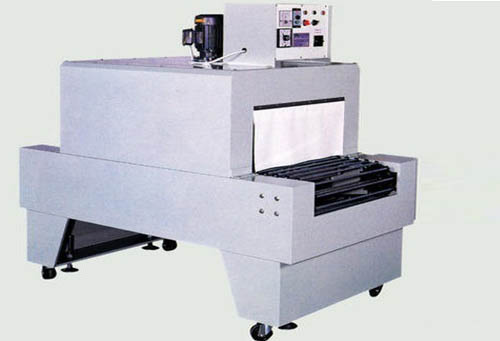 Features
• Our machines can shrink wrap at speeds up to 35 packs per minute
• Shrink wrap machines are available in sealing widths from 500 mm wide – 1800 mm wide
• Two sealing variants are available our fixed head (stop start) and moving head (continuous motion) sleeve sealing system, where more speed is needed
• For an even faster speed (up to 35 packs per minute) we have our progressive twin belt infeed machine
• The shrink wrap machines utilize a pneumatically controlled hot knife film cutting and sealing system, Improved longevity of the sealing bar
• Our packaging machinery is rigidly constructed from welded steel box section with CNC machined components
• Shrink wrap machines are fully guarded to CE standards including safety interlocked clear view doors
• Twin shrink film reel system
• PLC controlled
• Utilises a HMI touch screen for operation and machine control
• Designed with the engineer in mind, easy access for maintenance and clear view doors enhance visibility for the operator
• For use with Polyethylene shrink film – minimum 13 micron
• The shrink tunnel is thermostatically controlled and recycles air
• Roller track or wire mesh conveyor
• Base mounted turbo heater fans recycle and reuses air
• Super energy efficient shrink tunnel with thick insulation and double sets of silicone curtains at the entrance and exit to retain heat and maintain efficiency
• British designed and built in house in Poole

Options
• Automatic film feed out onto seal bed, aids side pack closure
• Push button control
• Fixed head, moving head and progressive infeed options depending on speed required
• Side seal system
• Side entry infeed
• Stainless steel fabrication and panels for food and dairy applications
• Collating system – designed to suit your product
• Range of infeed and outfeed conveyors to suit product
• Low film indicator
• Oversized film rolls can be incorporated
• Additional film roll cradles
• Fire extinguisher insertion points on the heat tunnel
• Film splicing unit
• Manual handling systems for large film rolls
• Pack rollers on tunnel exit
• Free standing control cabinet
• Service Contract
Our British built shrink wrap machines are fully supported by us in terms of service and supply of consumable spare parts.
Benefits
• SEPPA shrink wrap machine is a result of years of our experience in the industry and our collaboration with our customers and their engineers.
• Robust and reliable this machinery will last for many years in a heavy duty usage application
• SEPPA Shrinkwrap Machinery gives 49 years of knowledge which goes into the build of each machine, you can be assured of back up and service second to none.
• We operate in a continuous improvement environment and are open to work closely with our clients on all aspects of the design and build of each machine.